Dragonknights: Into the Birthright Frontier
Lysoria
Update of Lysoria
Since claiming the crown and proclaiming himself King, Lord Aaerik, has brought Lady Geraldine in to advise him on policy for his growing city. With the vast number of immigrants coming there have been a host of problems as the Great Leader has been pushing south with his goblin warriors and Commander Taut infiltrated the Iron Eagles. Attempting to disrupt the peace talks that have recently come about, Aryx sent assassins after the new king and there are rumors that one of his many sons Geheime Bedrieer is involved in the plot somehow.


Overview of Lysoria
Lysoria is a small city, in the northwest portion of the River Kingdoms with a long history of short lived despotic rule. Recently the population of Lysoria has swollen by additions of pilgrims jumping off for the bordering Birthright Frontier, as well as merchants, craftsmen, loggers and miners flock to the region. Every day ships clog the harbor, the docks are littered with cargo, the markets full of people, and visitors go door to door searching in vein for vacancies at inns. A combination of an overwhelmed city guard and a newly appointed lord still consolidating his power has resulted in a skyrocketing crime rate. Theft, extortion, kidnapping, and even murder have become too prevalent in Lysoria of late; non-the-less opportunity and economic growth draw more and more folks in, despite the dangers.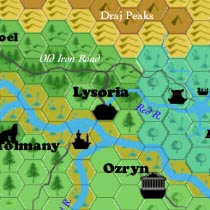 The town has a checkered past, having a history of dragon rulers and now more recently quickly cycled through despots, tyrants and lords. Over time the town has developed a reputation of tolerance as creatures, organizations, trade groups of varied origins have found safe haven.

The current lord of the city, Lord Aaerik seems to be a kinder ruler than those past, and has set about making Lysoria a safe place to live and do business. Unfortunately decades and centuries of traditions predate him, and with limited resources this Lysoria renewal is slow going.

Lysoria's ruler, Lord Aaerik , who came to power only two years ago. Lord Aaerik is known for his contagious laugh, great fecundity (he has at least 24 children by his 3 wives) and his leadership of the mercenary group the Iron Eagles.


Districts in Lysoria
People in Lysoria
Places in Lysoria
Known Organizations in Lysoria
Major Cities
Lesser Cities
Towns & Villages
Geographical Features
Rivers
Categories